It was great to have a face to face club annual general meeting this year, after last year's was held over Zoom, and there was plenty of lively discussion. Here's a (slightly belated) report of the highlights.
The Chairman
Chairman Darren Colville welcomed everyone, and reflected on a more exciting year in spite of the ongoing pandemic. The club ran a full programme of club races, and Darren thanked Sean Hardon for his sterling work in organising the marshals, and also thanked all those who helped out. Sean was awarded the club support trophy this year.
The Tour of Ards was unfortunately cancelled due to a lack of Police outriders (see later for more on this). But the town centre races did go ahead successfully at Kirkistown, and the Champion of Champions was a huge success with Marcus Christie eclipsing George Peden's 2020 record and becoming the second rider to beat Chris Boardman's 1993 time.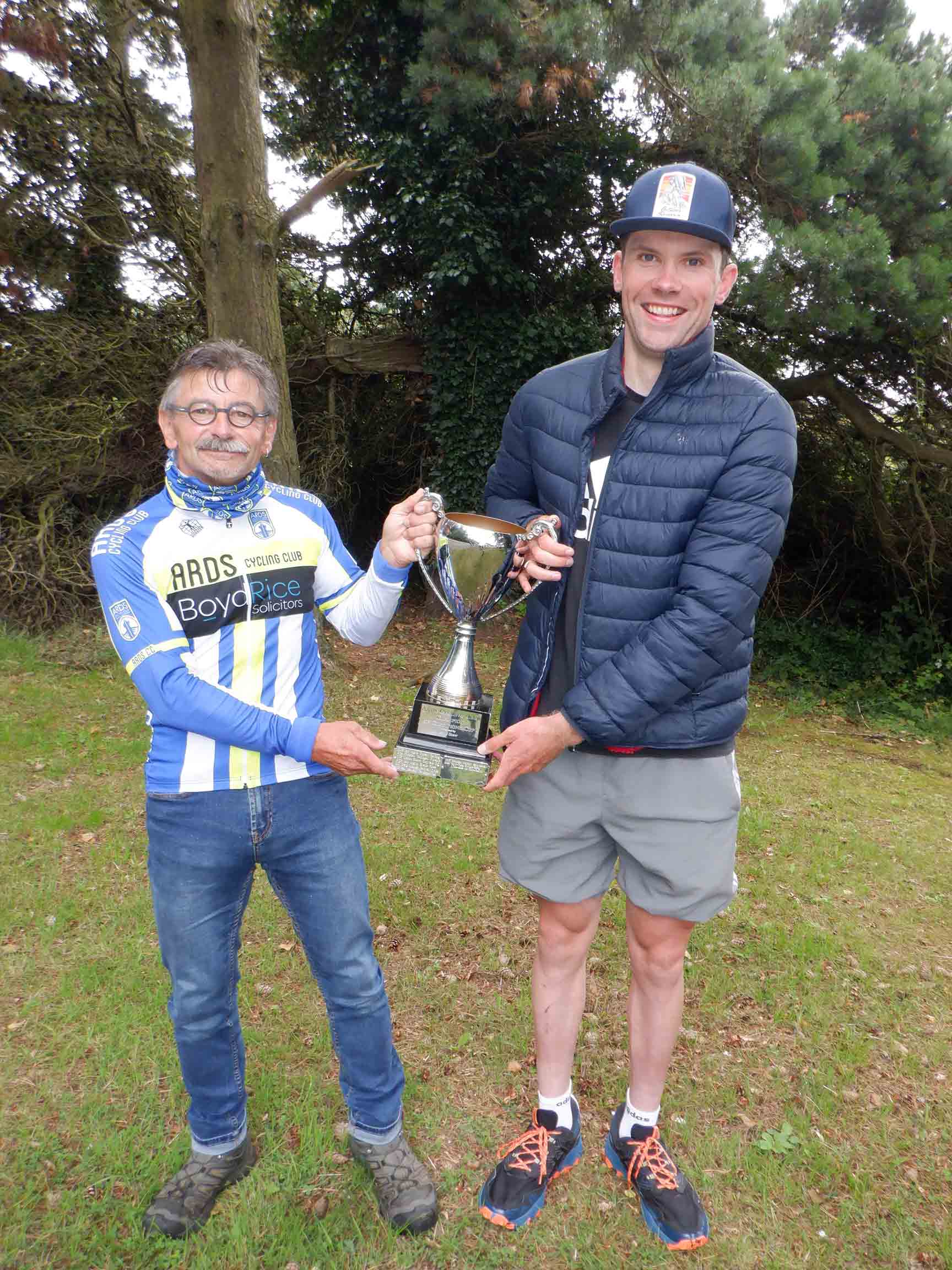 Over 130 riders took part in our Tour of Strangford sportive, raising over £2000 for North Down Samaritans. And we got a thank you letter from Jim Shannon MP. Thanks to Dean Bradley and the team for all their work.
Club runs continue to be bedrock of the club, and it was great to see them up and running again. But they weren't enough for some. With the Ulster 600 audax event cancelled, Barry Mitchell, Richard Hanna and Willy Gill decided to do it themselves, with a 600km tour of the European Union (or, at least, the nine counties of Ulster). Chapeau gentlemen.
The Ards CC Racing Team also completed with success (more later), and Darren also thanked Dany and the Belgian Project for promoting the club.
Darren closed by thanking our club sponsors Boyd Rice Solicitors and UPS Newtownards, (the former offering preferential rates to club members), and the committee and all the other volunteers who continue to make our club a success.
The Secretary
Secretary Stephen Beattie added some more detail. Club membership was virtually unchanged at 140, with 21% women. Underage grew marginally to 3.5%, but is still lamentably low.
Stephen thanked everyone who had helped out this year, highlighting Gareth for assisting with online event registration, Bernard for promotional material, and Sean for marshals.
The Treasurer
Treasurer Barry Mitchell reported on a busier year. The club made a loss on the year, partly due to a lack of sponsors for our bigger open events. But we were able to continue supporting our racing team, and a variety of other worthy causes, and the club is still in a strong financial position.
Barry recommended keeping membership fees at £15 for seniors, £5 for underage and £1 for non-cycling. We'll be publishing more details shortly about how to apply for next year's licence. Please note, if you are making a payment to the club, if possible please use an electronic bank transfer rather than a cheque as this saves us money. And include a couple of words giving the reason for the payment.
Barry thanked Richard Hanna for auditing the club accounts.
The Racing Team
Chris White reported on the Racing Team. Their objective is to promote racing at all levels and disciplines. Many riders had strong performances – highlights included Karl Rocket's 5th Ulster road title, the Ulster 25 and 50 mile time trial championships where Peter McLean won bronze, Ivan Robinson won the M60 class, and we took the team win, and the 4 stage Irish League event in Munster.
Chris thanked all those who had helped the Racing Team throughout the year, and encouraged more riders to get involved.
Election of Officials
President – James McFarlane.
Chairman – Darren Colville
Secretary – Stephen Beattie
Treasurer – Barry Mitchell
Child Protection Officer – David McNally
Committee Members – Richard Williams and John Green joined existing members Chris White, Dean Bradley, Anthony Day, Mark Watson, Brian Craig and Liz Armstrong.
Time Keepers – Stephen Beattie, Darren Colville, Gavin McBride, Paul Robinson, Deidre Murray.
Auditor – Richard Hanna
Kit Officer– Gavin McBride.
Any Other Business
There will be a white club clothing order placed shortly – all members will have been emailed the details. Lindsay and Liz are also investigating club leisure wear.
The club's first Mountain Bike event in over a decade was planned for 5/12 (Update – it was a huge success – see here for a report). The club is also planning a fancy dress Christmas Fry run for Sunday 12th (details were emailed out).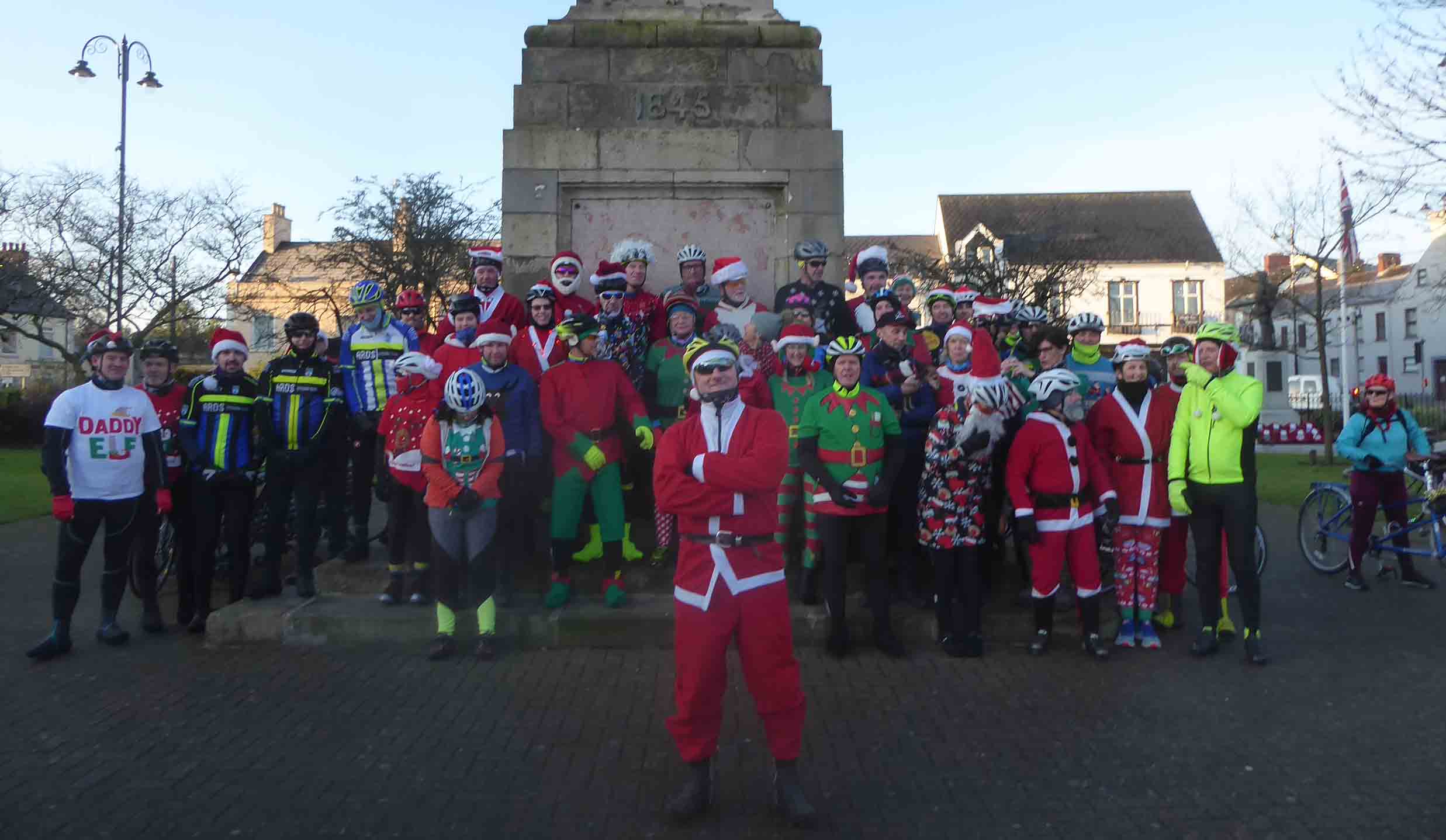 Don't forget the Christmas 10 mile time trial at 10am on Christmas morning on the Portaferry Road. Last year's winner Peter McLean has tipped Alan Patterson for the win this  year, but you can't rule out Ian Ingliss either. Everyone else will be enjoying a more relaxed pace, and sampling Desi's special brew – don't miss it  🙂
Alastair proposed a new mass participation event for all members next year. Given the severity of his last proposal – Journey to the Source of the Lagan – Richard and Deirdre offered to help check the feasibility! Keep an eye out for more details in the New Year.
The trial Trail Quest event in August was hailed a success, but there were ongoing concerns about the increased levels of traffic on some club courses. The committee was asked to consider these factors when drawing up next year's club calendar.
Colin Wilson reported from the Cycling Ulster AGM. The Police can no longer afford to provide outriders to big events, which effectively means that classic events like our Tour of Ards can no longer go ahead in their current format. The governing bodies for Cycling, Triathlon and Athletics have all raised concerns about the impact of this change, but it could take several years to sort it all out. In the short term, the club has set up a subcommittee to look at options for next year's Tour of Ards.
On that slightly sobering note, the chairman called the meeting to a close. Stay safe, and hopefully we'll see you at a club event or club run over the festive period.