In past reviews, we've featured riders from Italy, France, America, and Ireland. For this year's Christmas book review, it's Spain's turn, with two biographies by Alasdair Fortheringham.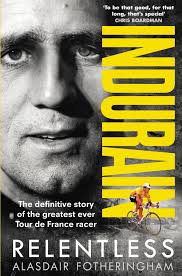 First up is "Relentless", the definitive story of the greatest ever Tour de France racer Miguel Indurain. Many of us will remember Big Mig's dominant riding in the early 1990s, but this book filled in lots of details for me. For example, I was only really aware of Indurain starting to emerge from the shadow of Pedro Delgado in 1990, whereas he was a prolific winner at junior level, the youngest ever Spanish senior road race champion at 18, and the youngest leader of the Vuelta at 20 in 1985.
There are lots of great anecdotes, although they can appear a bit unconnected at times. However, as the chapters progress, they build up into a fascinating picture of Spanish cycling, and wider culture, in the 1980s and 1990s. Indurain is quiet, and benefited from the continuity of being in one team throughout his career – his Reynolds team started out as a small, regional outfit that grew with him, and eventually metamorphosed into the Banesto squad that was one of the top in the world.
Spain was also emerging from the the darkness of the Franco years at this time, to become a strong, confident European nation, and Indurain (and his assertive success on a European stage) was held up as a symbol of this national progress.
Relentless is a great title for the book. Indurain famously won 5 Tours in a row, primarily by dominating the time trials and then defending in the mountains. He was also a generous rider, often letting other riders take stage wins while he focused on the overall.
Indurain rarely revealed much about himself in interviews, and didn't contribute to this book, although Alasdair did interview many of his contemporaries, including his brother. Unfortunately, they all provide a similar picture – Indurain was a great champion, generous on and off the bike, universally well liked, but quiet and private. And that's the problem with the book – while there is much to admire here, the central character does not ultimately produce the sort of unpredictable, edge of the seat performances that keep you reading way after lights out time.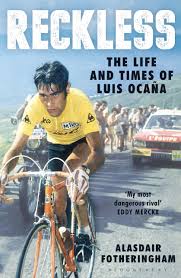 The same cannot be said of our second book "Reckless" – the Life and Times of Luis Ocana. Ocana was Spanish, and a great time triallist, but that's where the similarities with Indurain end.  His family struggled for years in northern Spain, before becoming economic migrants in southern France. Ocana took up cycling as a way to escape poverty.
On his day, Ocana was untouchable. But Alasdair has again picked a great title for this book, and Ocana also had moments of madness and fragility. He was unfortunate that his career overlapped with Eddy Merckx (aka "The Cannibal"). Merckx didn't just try to dominate his rivals physically – he also got under their skin. And yet…
The race is the 1971 Tour de France. Ocana attacks on the uphill finish to stage 8, and gains 15 seconds on Merckx. He gains more the next day. And then comes the legendary Stage 11 "Orcieres to Merlette" stage. Following some savage racing, Merckx suffers one of the worst defeats of his career, losing 8 minutes to Ocana. Ocana is in yellow as they go into the rest day.
And then comes the descent off the Col de Mente in the Pyrenees. Conditions are atrocious. Merckx attacks, but loses control and slides into a low wall. Ocana can't avoid him, and crashes too. Merckx is quickly back on his bike and away, but Ocana is hit by another rider, and lies on the ground screaming.
If you like a roller coaster ride, highs and lows, heroism and tragedy, then this is the book for you. If not, then perhaps you'd better stick with Indurain.
One final thought – how would these riders fit in the modern peloton, in a team like Sky? Indurain could probably teach Brailsford a thing or two about consistency, and keeping out of controversy. And Ocana?  He might be spending more time with team psychologist Dr Steve Peters…
As always, if there is something else you'd like to see reviewed, just let us know.