Club chairman John Carty welcomed everyone to the club Annual General Meeting on Monday evening, and congratulated them on another successful year for the club. Club races were popular, including a challenging new course at Ballygowan, the new Tour of Ards route was a success with riders and PSNI, and the town centre races had their biggest field for many years. The club fielded teams in 3-day races in Donegal, Newry and Omagh with some success, and the Tour of Strangford sportive raised £1800 for Marie Currie and Hope House.
John thanks all those who had helped to make all these activities a success.
Once again, secretary Gareth Murray's report gave us more detail behind John's report. Membership was up to a new record of 162. Members were reminded that they must also have a Cycling Ireland licence to give them the necessary insurance cover to take part in club events (including club runs).

We had great sponsors this year, particularly Wirefox and Chain Reaction Cycles, as well as numerous local businesses. The generous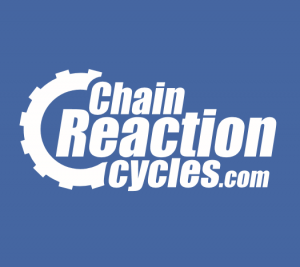 donations helped us to promote a great Tour of Ards, and also support teams at 3 open stage races. Ards riders really upped their game in open racing this year, with Andrew Hedley taking 8th in the Tour of Ards, the Ards team taking 4th team in Donegal and Chris taking a 4th place in Omagh.
The club was also able to support some of our underage riders, and Gareth highlighted the successes of Karl and Jamie Rocket.
Club races were also well supported, and it was great to see the emergence of some new riders, particularly Niall Brown and Kyle Adams. The club runs are also popular – thanks to the road captains and Desi for their continued leadership.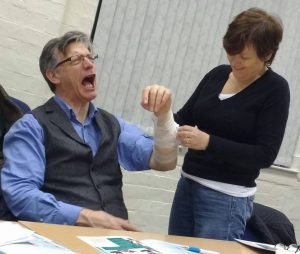 Gareth also mentioned the wide variety of other activities this year, including Sustrans NI training, first aid training, our website, Facebook and Twitter, the club BBQ, and the club awards night. Thanks to everyone who works behind the scenes to make it all possible – the success of the club is thanks to a large number of volunteers.
Money Matters
Next up was the Treasurers Report. Conn presented another positive report, and proposed that membership fees remain unchanged at £15 for seniors, £5 for underage, and £1 for non-cycling. Club race fees were also unchanged at £2 for seniors, 50p for underage and £3 for visitors.
We'll be publishing more details shortly about how to apply for next year's licence. In the mean time, if you are making a bank transfer payment to the club, Conn asked if members could set up separate payments for membership and clothing, so that they can be easily distinguished.
Conn also highlighted our generous sponsors. We hope that they will continue to supports us next year.
In addition to the ToS charities mentioned above, the club also made donations to the Belgian Project and the PSNI Benevolent Fund, and it was proposed to continue supporting these worthy causes next year.
Conn thanked Gavin McBride for managing our clothing orders (the largest item on the balance sheet) and Richard Hanna for auditing the accounts.
Election of Officials
The core club office bearers were all re-elected –
President – Bobby Magreechan
Chairman – John Carty
Secretary – Gareth Murray
Treasurer – Conn Russell
Child Protection Officer – David McNally
Committee Members – Barry Mitchell, Darren Colville, Alison McErlane, Bernard McCloskey, Alan Devenney
Time Keepers – Darren Colville, Gavin McBride, Paul Robinson, Bernard McCloskey
Auditor – Richard Hanna
Kit – Gavin McBride.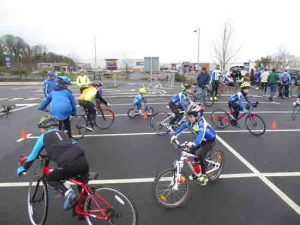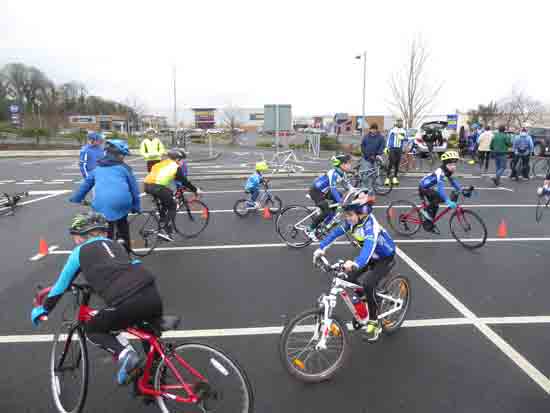 There was some discussion around the youth subcommittee. They started promisingly, with a successful skills day in Dundonald, Unfortunately, enthusiasm petered out after that. Kids are still able to join in club runs (if accompanied by an adult), and there were plenty of ideas for kids events. If you are interested in trying to get the youth section up and running again, please get in touch with the committee.
Once again, the meeting failed to appoint a Public Relations Officer. Alastair Martin offered to continue covering club events for the website (and would welcome articles from any other club members). If any member is willing to write a write a regular column for the local papers, please get in touch with the committee.
Any Other Business
The meeting discussed a number of other topics –
The club is looking at potentially applying for the Club Mark scheme, which would provide formal recognition of our processes and procedures (and is increasingly required by some sponsors).
2019 will be the club's 75th anniversary, and a number of ideas to celebrate this were discussed.
Concerns about traffic disruption at the Tour of Ards were raised. It was pointed out that the PSNI fully support the event, but the committee were asked to consider advance notices on the route before the event (like we do for the town centre races) to try and help manage the public's expectations. Concerns were also expressed about the level of traffic during the Champion of Champions 25.
The club may consider a change of kit supplier next year.
The meeting closed with a vote of thanks from the floor to the committee (and all those who helped) for the great year, and the wide variety of projects undertaken. Roll on 2018!