The Ards CC Christmas morning 10 mile time trial was wet. Very wet. Just six riders signed on (none in fancy dress), the lowest in living memory, and even one of those started before the timekeeper's watches were running!
Fastest, with a superb time of 22:54, was Ian Inglis (Black Rose), extending his winning run to four in this event. Northern riders Ross Brennan (25:40) and Michael Rowan (26:18) filled out he podium. Ards CC riders Alastair Martin (27:06) and Alan Rodgers (27:21) were next, followed by visitor (and past member) Matthew Martin.
Thanks to all those whole helped out (and outnumbered the riders!), including Darren Colville, Dany Blondell, Willy Gill, Linda Hutchinson, James McFarland, Desi McIlwrath, and everyone else.
It was great to see some Christmas 10 "regulars" down supporting the event, including Dave Kane, Jack Watson and Ron Martin. Unfortunately club president Bobby Magreechan was bruised from a fall last week and is confined to the house, but he's recovering well, and hoping to get down to more events next year.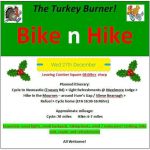 Three riders turned up for today's "Bike n Hike" ride to the Mournes. Comber Square was very icy at 8am, but our intrepid heroes optimistically predicted conditions could only improve. We wish them well.
If you're looking for other cycling based challenges, check out this page for some suggestions (or find it under the "Club Events" link on the menu bar above). If you've any other ideas, let us know and we can add them to the list.
Now is also a great time to start thinking about next year – as New Year approaches, why not set your self some cycling goals for 2018, and draw up a plan to achieve them? Check out our coaching pages for more details on setting goals and planning (or find them under the "About Us" link on the menu bar above).