Here are some details of upcoming events.
First, the club will have a stand at Movilla Abbey Church this Saturday (11th June) as part of the celebrations for the Queen's 90th birthday. There will be roller racing for the kids, and some state of the art racing bikes for their parents to admire. Gates are open from 3pm – 5pm, and there will also be a bouncy castle, bungee run and other activities. We supported a similar event at Movilla a couple of years ago and it was great fun, so please call in if you're in the area.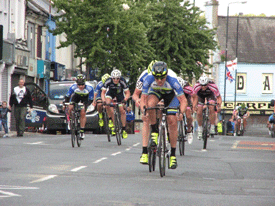 Second is a reminder about the Town Centre racing which we're running on a closed road circuit around Newtownards Town Centre next Wednesday evening. Entry to the main senior races is via Entry Central – see the earlier story here. There will also be racing for novices, U12, U14 and U16, with entries taken on the night from 6pm in the Town Hall. Please get signed on early to avoid a late rush. Note – novices will require parental consent.
All offers to help with marshalling will be very welcome. There is a marshals meeting in the South Street car park at 6pm.
This is always a great event – we even had an Ards CC winner last year. Let's see if we can top that this year!
And finally – early notice that this year's club BBQ will be on Saturday 6th August. As in recent years the event will be at 20 The Oaks, off the Old Shore Road in Newtownards. All members and their families are welcome. There is a trampoline, swings, etc. (kids take priority Mr Chairman!), and a quiz for the adults. There may be roller racing if the rollers survive the trip to Movilla this weekend.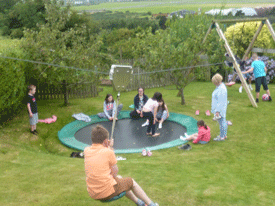 The fun will start at about 3.30pm, and the cost is £6 per adult and £2 for under 16s. BYOB. Please let a member of committee know if you are coming so that we can plan appropriately. And if there are any budding chefs out there willing to share the BBQing that would be much appreciated.