Fifteen hardy souls faced the timekeepers for tonight's club season opener on the Donaghadee Road. Although the rain held off during the race, a stiff and biting headwind on the return leg meant that the course record was never in danger.
Fastest on the night was visitor Andrew Evans (KIllinchy) with 12:11, beating the ever green William Gill by just 9 seconds. The battle for handicap points was even closer, with both Steve Limmer and Chris Spiers just 8 seconds slower than their previous personal bests to take a joint early lead in the 5 mile handicap cup.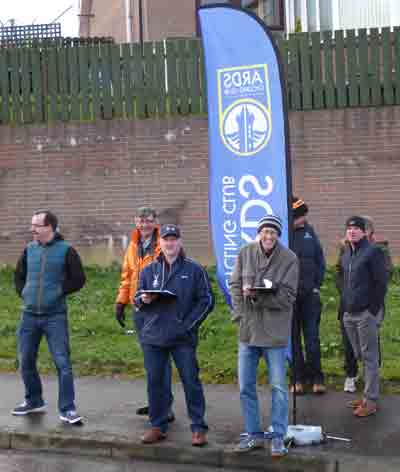 Thanks as always to the timekeepers and marshals. Hopefully Spring will re-appear before next week.
And didn't the new club finishing flags look very professional!
| | | | | | |
| --- | --- | --- | --- | --- | --- |
| | Name | Club | Time | H'Cap | Pts |
| 1 | Andrew Evans | Killinchy | 12:11 | | |
| 2 | William Gill | Ards CC | 12:20 | -50 | 3 |
| 3 | Steve Limmer | Ards CC | 12:45 | -8 | 10 |
| 4 | Chris Spiers | Ards CC | 12:47 | -8 | 10 |
| 5 | Luke Fulton | Ards CC | 13:07 | npt | |
| 6 | Mark Watson | Ards CC | 13:17 | -131 | 1 |
| 7 | Alex Porter | Ards CC | 13:27 | npt | |
| 8 | Alan Patterson | Ards CC | 13:32 | npt | |
| 9 | Michael Lyons | C/Reagh | 13:39 | | |
| 10 | Alan Rodgers | Ards CC | 13:41 | npt | |
| 11 | William Orr | Ards CC | 13:51 | -44 | 5 |
| 12 | Gillian Orr | NDCC | 13:58 | | |
| 12 | Colin Wilson | Ards CC | 13:58 | -67 | 2 |
| 14 | Dean Bradley | Ards CC | 14:13 | npt | |
| 15 | David McCann | Ards CC | 15:18 | -189 | |
npt = no previous time (at this distance in an Ards CC race, while a member)