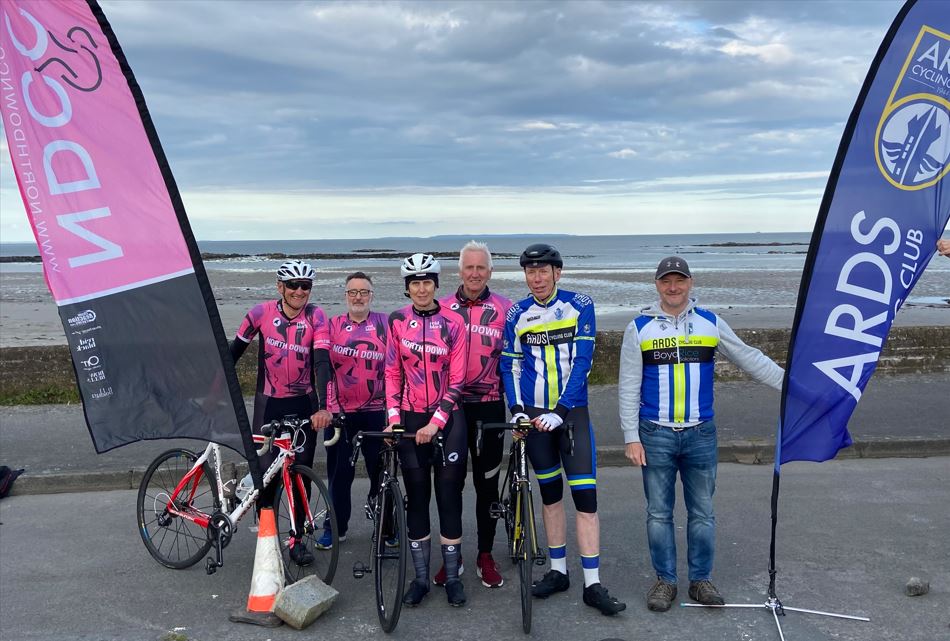 The first win in the new Ards-North Down Inter Club League went to Ards CC at this evening's 10 mile time trial in Millisle, with Stuart Millar taking a clear win in the road bike section, from Glen Curry and Luke Joyce (both North Down). But in terms of number of riders, it was definitely North Down who dominated, with 16 qualifiers to Ards' 5.
The ICL is restricted to road bikes only. The fastest ride on the night was Ian Inglis (Kinning Cycles CC) on a TT bike, who recorded an excellent 20:49 – just 14 seconds slower than Peter McLean's course record set in 2021. Note that due to the mix of bikes used by Ards CC riders tonight, the committee decided that this 10 will not count towards the club's 10 mile handicap trophy this year.
It was great to see a big field of 35 riders. The next ICL event is a road race at Ballyboley on 24th May – click here for the full list and entry details.
The next Ards CC club race is a 10k straight in time trial from Greyabbey to Ards on 9th May – click here for the full calendar and entry details.
| | | | | | |
| --- | --- | --- | --- | --- | --- |
| | Name | Club | Time | Bike | ICL pts |
| 1 | Ian Inglis | Kinning Cycles CC | 20:49 | TT | |
| 2 | Barry Mitchell | Ards CC | 22:29 | TT | |
| 3 | Michael Boyd | AHC Racing | 22:43 | TT | |
| 4 | John Rafferty | Unattached Ulster | 23:10 | TT | |
| 5 | Stuart Millar | Ards CC | 23:25 | Road | 20 |
| 6 | Glen Curry | North Down CC | 24:00 | Road | 19 |
| 7 | Luke Joyce | North Down CC | 24:07 | Road | 18 |
| 8 | Aaron Fegan | Ards CC | 24:18 | Road | 17 |
| 9 | Glenn Kinning | Kinning Cycles CC | 24:23 | Road | |
| 10 | Kirk Sloan | North Down CC | 24:35 | Road | 16 |
| 11 | Barry Greer | North Down CC | 24:51 | Road | 15 |
| 12= | Hazel Smyth | Kinning Cycles CC | 24:58 | TT | |
| 12= | Ian Carson | Ards CC | 24:58 | Road | 14 |
| 14 | Kieran Mc Namara | Ards CC | 25:04 | Road | 13 |
| 15 | Philip Giles | AHC Racing | 25:06 | Road | |
| 16 | William Larmour | East Antrim CC | 25:09 | Road | |
| 17 | Dean Bradley | Ards CC | 25:32 | TT | |
| 18 | Joseph Giles | AHC Racing | 25:50 | Road | |
| 19 | James Lemon | Ards CC | 26:06 | TT | |
| 20 | Ross Blayney | North Down CC | 26:08 | Road | 12 |
| 21 | Keith Hooks | North Down CC | 26:21 | Road | 11 |
| 22 | Paul Hamilton | Dromara CC | 26:40 | Road | |
| 23 | Robert Mc Garry | North Down CC | 26:43 | Road | 10 |
| 24 | Karen Hull | Phoenix CC | 26:57 | TT | |
| 25 | Norman Wilson | North Down CC | 27:06 | Road | 10 |
| 26= | Jessica Kerr | North Down CC | 27:43 | Road | 10 |
| 26= | William Orr | Ards CC | 27:43 | Road | 10 |
| 28 | Tom Henry | North Down CC | 27:58 | Road | 10 |
| 29 | Stephen Cardy | North Down CC | 28:07 | Road | 10 |
| 30 | Colin Wilson | Ards CC | 28:24 | TT | |
| 31 | Gareth Boyle | North Down CC | 28:29 | Road | 10 |
| 32 | Gillian Orr | North Down CC | 28:49 | Road | 10 |
| 33 | Roy Livingstone | North Down CC | 29:00 | Road | 10 |
| 34 | Yesten Smith | North Down CC | 29:05 | Road | 10 |
| 35 | Ryan Fegan | North Down CC | 29:24 | Road | 10 |