The Northern Ireland Department for Infrastructure defines Greenways as "traffic-free routes connecting communities to all kinds of destinations for commuting, everyday journeys or leisure and recreation". The nigreenways.com website is an inspirational view of what could be possible in Northern Ireland with the right funding. And the existing Comber Greenway, well loved by local riders, is the gold standard locally. Sadly, many of the proposed routes are progressing slowly.
It was therefore very encouraging to see Ards and North Down Borough Council submit a planning application for the first phase of a Newtownards to Bangor Greenway just before Christmas. The proposed route starts at the northern end of the Londonderry playing fields, and follows Georges Street and Bangor Road, before turning right to follow the line of the old Ards-Donaghadee railway (with a spur joining from the left) (see the left hand map below). The route then follows the line of the railway north, before cutting across to the Somme Heritage Centre via a new bridge over the dual carriageway (see the right hand map below).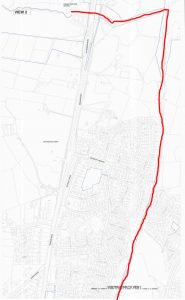 If you think this sounds like a great plan, then why not write to your local councillor to share your enthusiasm? Perhaps the club might also consider a more formal response supporting the planning application…
More on that Obelisk
While we're waiting for a network of greenways to be built, there is already plenty to discover in Ards. We had a couple of responses to last week's Obelisk story. For those interested in the Princess Victory Disaster, the lifeboat Sir Samuel Kelly (which rescued 33 of the 44 survivors) is currently being restored in Donaghadee.
And the second suggestion of things to see on your visit to Donaghadee is a special swimming opportunity on the Bangor side of town….