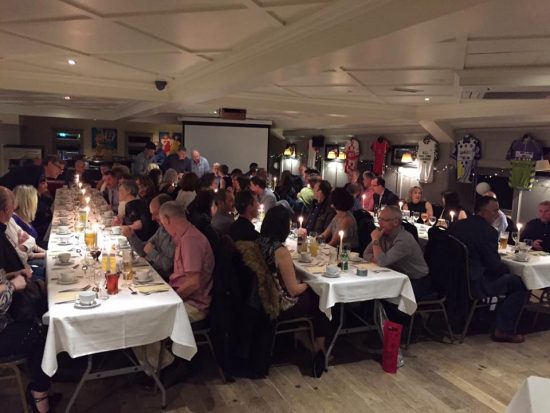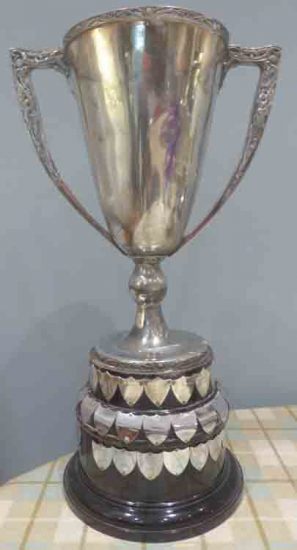 The club dinner and Annual Awards Night was a great success last Saturday, with over 70 members enjoying an evening of celebration in Molly Brown's. Bernard had put together a fascinating slide show and there was also a display of current and historic club jerseys.
Special thanks go to Aimee Gourley for organising the dinner, and to David McNally for sorting out all the trophies, medals and certificates.
The picture on the right is the legendary Weir Cup, presented to the club by the "Kircubbin Cobbler" Willy Weir in 1948. Willy was president of the club, and also the first man to break the hour on the Portaferry Road – for 20 miles in 1912! We currently present this trophy for the 10 mile handicap competition, and this year's winner was Niall Brown.
There are lots more pictures here.
For the record, below is a list of the main award winners. Congratulations to them all!
| | |
| --- | --- |
| Trophy | Winner |
| 5 Mile T.T. Handicap | Dean Bradley, Steve Limmer, Chris Spiers |
| 10 Mile T.T. Handicap | Niall Brown |
| 25 Mile T.T. Handicap | William Gill, Josh Porter and Colin Wilson |
| Road Race Handicap | Ricky Topping |
| Circuit Time Trials | Ricky Topping |
| Magreechan Cup | Willy Gill |
| Hill Climb Trophy | Gareth Murray |
| Bradshaw's Brae | Ricky Topping |
| Henderson Cup – Senior B.A.R. | Willy Gill |
| Hudson Shield – Open B.A.R. | None |
| Schoolboy B.A.R. | None |
| Vets' B.A.R. | Willy Gill |
| McFarlane Cup | Robin Millar |
| Henderson Shield | Willy Gill |
| Killarn Cup – 10k Handicap | Ricky Topping |
| Billy Boal Memorial | Paul McMinn |
| Best 10k | Ricky Topping |
| Club support | Paul Cunningham |