Over one hundred riders came to Newtownards Town to ride the sportive of Ards CC in aid of the Motor Neurose Disease Association NI ..This in very difficult weather conditions..the rain hit us badly around ten am ..and the wind became stronger every hour after..with a stop for tea and coffee and food about halfway ..the riders set off for the most hardest ride they done this year..choppy ferryboat ….
and then in to hell..headwinds of 50 km a hour ….
and this for another 26 miles back to Ards Town ,,all riders in around 4pm, tired ..but happy..early indications tell us that we have raised nearly £1400 for the charity with some hefty donations at the start such as the Tesco Distribution centre in the Boucher Rd in Belfast wo collected 0ver 180 pounds !! Thanks to all the Ards CC committee members ,family and friends for the back up today,and all the food.. and to all riders for showing up on a day like today..Also to Holly's Hobbies from Ards for the donation towards the food bill…Ards CC is back on the map of cycling!!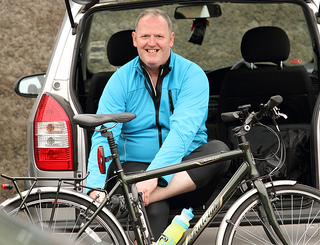 For more great photos from David McVeigh, click here.