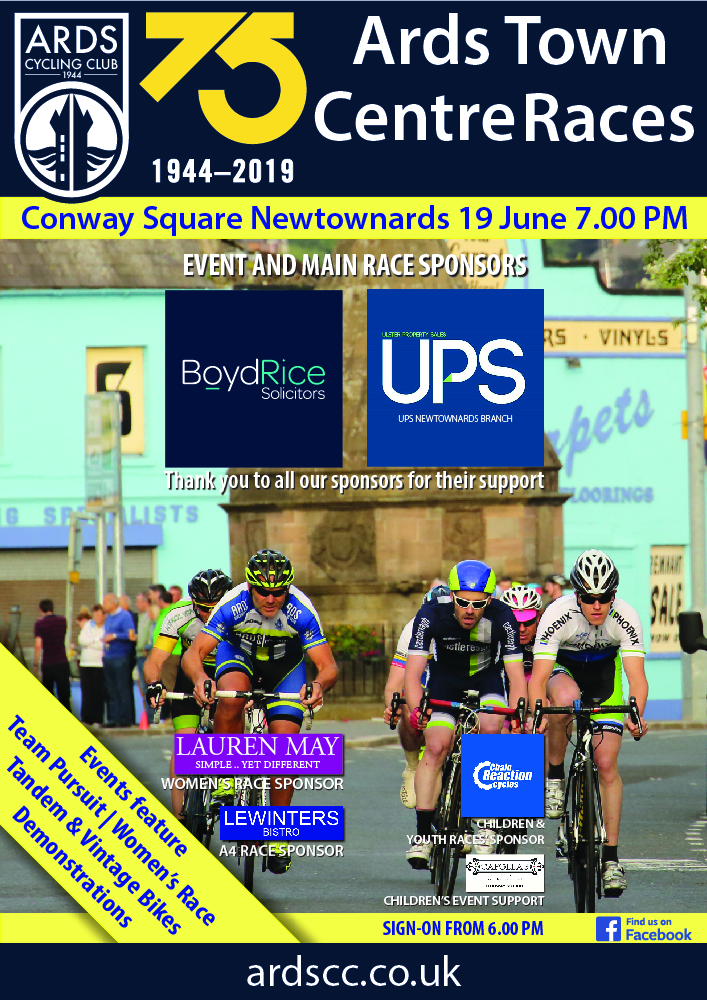 Entry is now open for the Ards Cycling Club Town Centre Races on Wednesday 19th June 2019 – https://www.entrycentral.com/ardstcr.
We are pleased to host the Town Centre Races in association with main event sponsors Boyd Rice Solicitors and Ulster Property Sales Newtownards. The A4 race is sponsored by LeWinters at The Strangford Arms Hotel, the women's race is sponsored by Lauren May Jewellery and the youth races are sponsored by Chain Reaction Cycles Belfast.
Cafolla's Cafe will have ice creams for all the children taking part in the novice race. We also hope to have skills for children in the square after the novice race.
As part of our 75th anniversary celebrations there will be an exhibition with tandems and vintage bicycles.
Sign-on is in Newtownards Town Hall in Conway Square from 6.15pm. Please note that the sign-on for each race will close 15 minutes before the race. The race schedule is as follows:
19:00 Children/Novice race – 2 laps
19:10 U12 – 4 laps
19:20 U14/U16 – 8 laps
19:35 Tandems/Vintage Bicycles – 15 minutes
19:50 Team Pursuit – 6 laps
20:05 A4 Race – 10 laps / 20 minutes
20:25 Women's Race – 10 laps / 20 minutes
20:45 A* – A3 Race – 15 laps / 30 minutes
Note – riders in all races except the novice race and the tandem.vintage demonstration event require a Cycling Ireland Full Competition license (Ards CC members only need a Limited Competition licence) and will be checked.