The Club Annual General Meeting will be on Wednesday 28th November at 7pm in the Strangford Arms Hotel. Everyone is encouraged to attend – this is your chance to hear about how the club did in 2018, and to influence what we do in 2019.
There is a report from last year's AGM here to give you a flavour of what they're like.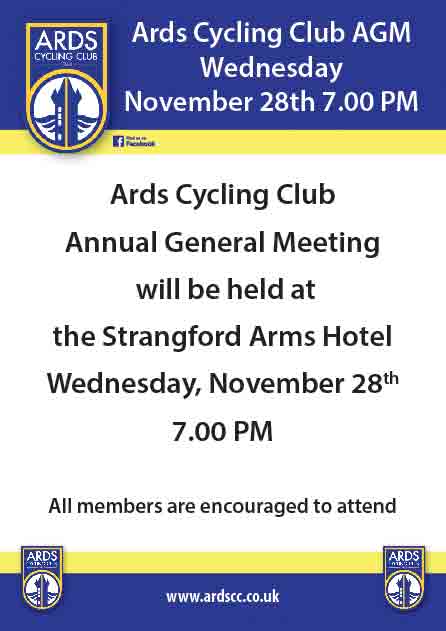 If you'd like to nominate someone (or volunteer yourself) for a position on the committee, or to propose a motion for discussion, let Gareth know before hand.
To get you thinking, here's a couple of suggestions for things we could talk about –
2019 is the 75th anniversary of the club, and we've already got a black tie dinner with a special guest pencilled in. Are there any other ideas for events that we could promote to mark this major milestone in the club's history?
Thirty years ago, over half the club membership was under 16 years of age. Today, if it wasn't for the young Rockets holding the flag, we'd have no youngsters. What can we do to encourage more young folk to try cycling? Or are we happy for Ards CC to slowly morph into a health and social club for the middle aged…?  Could we set a target to get 75 under 16s to try one of our events in our 75th anniversary year??
Come to the meeting and have your say!