Here are a couple of new books to add to your summer reading list.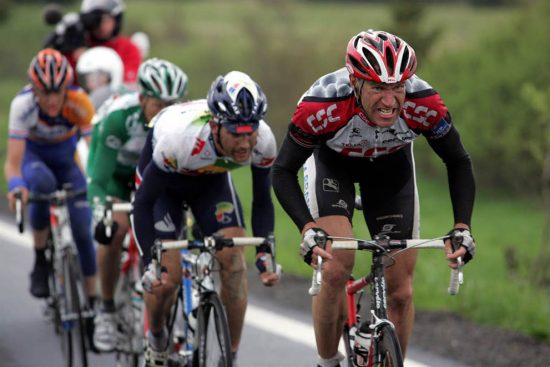 First up is the Jens Voigt autobiography "SHUT UP LEGS!".
Voigt is a cycling legend, having started in a record equalling 17 Tour de Frances, and spent much of them off the front in long distance attacks (some of which were successful, but many more of which ended in glorious failure).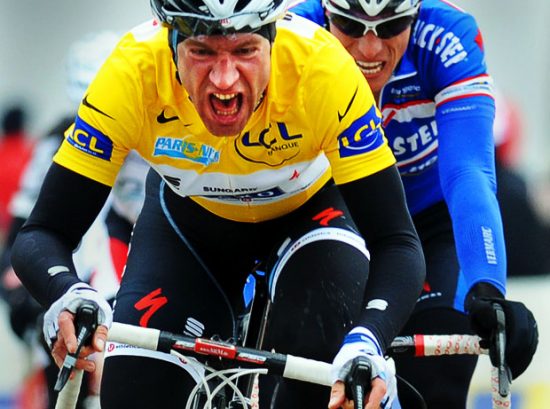 But Voigt was a lot more  successful than this brief summary might suggest, spending time in the Tour's yellow jersey in addition to winning stages, and also winning numerous other races (most notably in Germany and the USA) and holding the World Hour Record.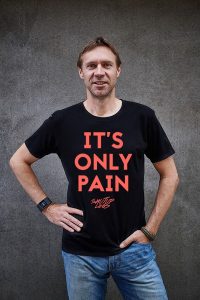 More recently, Voigt has won over a new legion of Twitter fans with his pithy, humorous insights.
The book starts in East Germany, where Voigt's potential was identified and nurtured by the famous communist sports academy. Voigt is fortunate that the Berlin wall collapses just as his career is starting to take off, and the rest, as they say, is history.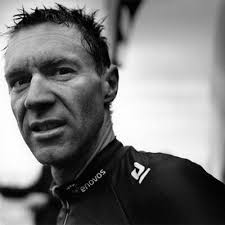 Voigt's strong family values shine through, but there are also lots of anecdotes about the stars he has worked with, and for, sprinkled throughout the book. Voigt is an inspirational character, and the book does him full justice.
Our second book is "Anquetil, Alone" by the French author, poet and cultural ambassador Paul Fournel. It was translated into English last year by Nick Caistor, and I decided to give it a go after reading a quote about Jacques Anquetil by Tim Krabbe (author of our top Christmas book in 2016) –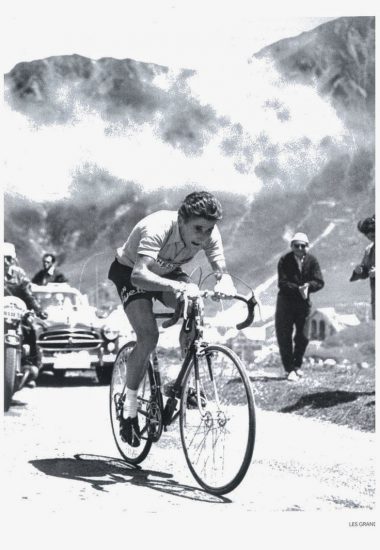 "Geldermans told me that before every climb, Anquetil used to take his water bottle out of its holder and stick it in the back pocket of his jersey to lighten his bike. I decided to look more closely. I discovered that, in all the photos of Anquetil in the mountains, the bottle was in the holder. But that was an illusion: Geldermans' story is the true one. That's the one that gets to the heart of the cyclist. It's the photos that are lying."
That's a fascinating story. It doesn't make any difference whether your bottle's on your bike or in your pocket, you've still got to carry it. And even if it did make a difference, there is no evidence that Anquetil moved his. And yet – the story persists, the mind games continue to play, the legend grows…
This is a short book, but the sentences and paragraphs are rich and laden with insights, as befits a poet. The style is also unconventional, jumping between scenes from his own childhood when he first becomes an Anquetil fan, to sections where Anquetil himself is the narrator. The timeline jumps around, and the reader is assumed to have a basic knowledge of Anquetil's career – the five Tour de France victories, his dominance in time trials, as well as his image as the elegant, arrogant "Master Jacques" with a relaxed attitude to rules and morals.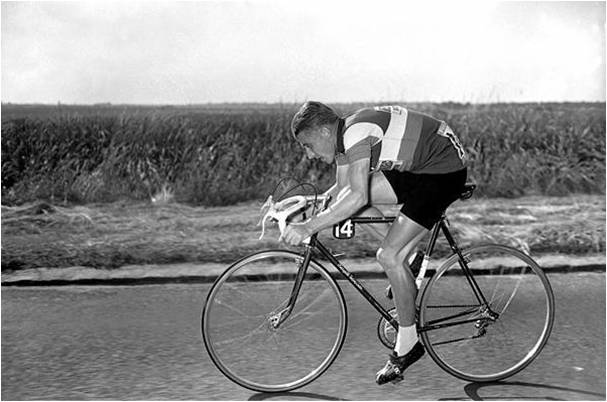 Within the first few pages we're treated to the first of many stories from his career. This one happened after he was an established star, but captures the essence of the rider, and the legend.
Anquetil has entered the Grand Prix to Lugano, a top time trial in southern Switzerland close to the Italian border. He has already won the race 6 times, and the organisers are worried that their race is becoming too predictable. If Anquetil turns up, he will win. The organisers offer him his appearance money not to take part, and he accepts with good grace.
A few months later, the organisers have a change of heart. It won't look good if Anquetil is not there to defend his title, so they contact him again. Taking a second fee, Anquetil agrees to race after all. The organisers then suggest that it would be good if Anquetil could let the Italian champion Ercoli Baldini win. Anquetil feigns shock at being asked to throw a race, but accepts a third payment to do so.
On the day of the race, Anquetil meets Baldini before the start. Baldini doesn't know about all the shenanigans. Anquetil offers to let Baldini win, if Baldini will give him his appearance money. Baldini gladly agrees, and thanks Anquetil for the offer!
The race starts. Fournel takes up the story –
"As the weather was fine, the route beautiful and the prize money substantial, he won anyway. And Baldini understood that perfectly, because he knew how champions function – he was one himself, obviously not on top form that day, but still smiling. Racing is also a game, and you have to be really good to pull off such a stunt."
The book also covers Anquetil's attitude to drugs and women – attitudes that shocked and divided 1960s France – and his great rivalry with fellow French star Raymond Poulidor, that in some ways mirrored the Coppi/Bartali rivalry two decades earlier.
This is a fascinating and beautifully written insight into a complex character. And it fits handily in a cycling jersey pocket, so you can dip into it at a tea stop, or when you spot a sheltered seat in the spring sunshine. Highly recommended.