Ards Town Centre races, promoted by Ards Cycling Club on Wednesday evening, were a huge success with over 110 riders competing in 5 separate races.
First up were the 23 novices, ranging in age from 5 to 11.  The younger riders were given a short head start, but the older riders soon made their way to the front of the field. After two laps, Odhran McCarthy emerged as the winner. Highlight of the night for many was watching the younger riders' delight at completing their two laps, with Daisy Blayney (7) from Bangor and Evie Martin (5) from Newtownards sporting the biggest smiles of the night.
Next up were the 10 Under 12 riders, and after 7 laps Dylan Traynor's long journey from Donegal paid off as he emerged the winner.
The Under 14 and Under 16 categories were merged into a single race. Unfortunately this led to a lot of confusion with overlapping number ranges, and many lapped riders. Ryan Orr (Ballymoney) and Harvey Barnes (East Tyrone) were clear winners of the U16 and U14 categories respectively, but some of the minor places were initially awarded incorrectly. Thanks to all who pointed out our mistakes. We'll try to contact anyone who missed out on a prize over the next couple of weeks. Alternatively you can contact us here.
Fourth race of the night was the combined A3/A4 and Over 50 riders. Two under 16 riders were also given special dispensation by Cycling Ireland to compete in this event. Despite some aggressive riding, they couldn't escape the leading group. However they were still strong enough to finish first and second, with Jake Gray (East Tyrone) taking the win from Declan Mulholland (Clan Eireann). First senior was Philip Belshaw (East Antrim) with Martyn Lyttle (North Down CC) claiming first over 50.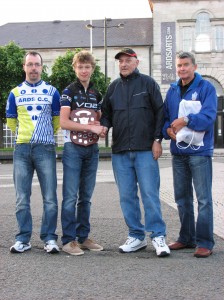 Craig McCauley (VO2) won the Simon Hamill Shield for first Junior
Final race of the night was the A*/A1/A2 senior race. Many of these riders have international experience, and their faster pace was clearly visible. An early break of Adam Armstrong (Eurocycle), Gary Cranston (East Antrim) and Marcel Koch (Phoenix) never looked like getting caught in spite of some strong chasing from Glenn Kinning (East Antrim) and Micky Murray (Clan Eireann), and they finished in this order.
See below for a full list of results.
Ards CC would like to thank the Police for getting the circuit closed to traffic and helping us to run a safe event, St John's ambulance (thankfully not needed), commissaire Jack Watson, our sponsors Chain Reaction Cycles and The Belgium Project, and all the club members who turned out to help on the night. And thanks to all the riders for turning out and making such a great night of it.
And if whoever currently has the club's hi-res video camera could return it that would be greatly appreciated, and might help us avoid judging problems in the future.
Novices Result
| | | |
| --- | --- | --- |
| Place | Name | Number |
| 1 | Odhran McCarthy | 104 |
| 2 | Neill Kelso | 117 |
| 3 | Matthew McKelvey | 120 |
| 4 | Dean Harvey | 105 |
| 5 | Shea O'Kane | 107 |
| 6 | Jack Caberale | 118 |
| 7 | Johnny Cheyone | 119 |
| 8 | Max Wilson | 114 |
| 9 | Finn Hackett | 111 |
| 10 | Luke Moore | 108 |
| 11 | Lewis Armstrong | 106 |
| 12 | Abraham Johnson | 112 |
| 13 | Jack Fieville | 115 |
| 14 | Clodagh O'Neill | 116 |
| 15 | Nathan Beattie | 113 |
| 16 | Amber Young | 122 |
| 17 | Daisy Blayney | 121 |
| 18 | Stuart Jamison | 109 |
| 19 | Tom Martin | 123 |
| 20 | Emma Martin | 102 |
| 21 | Darcy Jamison | 110 |
| 22 | Evie Martin | 101 |
| 23 | Dharesh McCarthy | 103 |
U12 Result
| | | |
| --- | --- | --- |
| Place | Name | Club |
| 1 | Dylan Traynor | Errigal CC |
| 2 | Molly McCarron | North Down CC |
| 3 | Drew Armstrong | XMTB |
U14 Result
| | | |
| --- | --- | --- |
| Place | Name | Club |
| 1 | Harvey Barnes | East Tyrone CC |
| 2 | Ethan Fleville | Clan Eireann |
| 3 | PJ Doogan | Errigal CC |
U16 Result
| | | |
| --- | --- | --- |
| Place | Name | Club |
| 1 | Ryan Orr | Ballymoney CC |
| 2 | Will Hamilton | North Down CC |
| 3 | Cameron McIntyre | XMTB |
A3/A4 Result
| | | |
| --- | --- | --- |
| Place | Name | Club |
| 1 | Jake Gray (U16) | East Tyrone |
| 2 | Declan Mulholland | Clan Eireann |
| 3 | Philip Belshaw | East Antrim |
| 4 | Shaun Carey | North Down CC |
| 5 | Andrew Crowthers | North Down CC |
| 6 | James Ambrose | Curran Racing |
| 7 | Gareth Beattie | North Down CC |
| 8 | Andy Young | North Down CC |
| Jun | Craig McCauley | VO2 |
Over 50 Result
| | | |
| --- | --- | --- |
| Place | Name | Club |
| 1 | Martin Lyttle | North Down CC |
| 2 | Paul Swinnerton | North Down CC |
| 3 | Ian Blayney | North Down CC |
A*/A1/A2 Result
| | | |
| --- | --- | --- |
| Place | Name | Club |
| 1 | Adam Armstrong | Eurocycles |
| 2 | Gary Cranston | East Antrim |
| 3 | Marcel Kock | Phoenix |
| 4 | Glen Kinning | East Antrim |
| 5 | Micky Murray | Clan Eireann |
| 6 | Paul Ferguson | North Down CC |