Northern Dave Kane dominated the podium in tonight's 10 mile time trial with Mark Kane winning from brother Paul and David Fowler. It was a pleasant, sunny evening but there was a strong, offshore breeze that didn't really help the riders in either direction, so the 21 minute times of the Kane brothers were particularly impressive.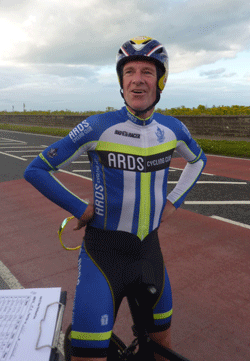 In the race to be top Ards rider, the early season rivalry between William Gill and Barry Mitchell was resumed. Barry improved his personal best by 10 seconds, but William was faster by four seconds on the night.
In the battle for the 10 mile time trial trophy, there were just 2 counting events this year. Paul Cunningham and Richard Hanna took a win each on handicap, so they will share the trophy.
Thanks to the marshals and timekeepers. And as the evenings start to draw in, remember it is a club rule that a rear red light should be used in time trials.
Finally, a reminder that the club BBQ is this weekend. If you'd like to go and haven't yet signed up, please let Desi McIlwrath or Paul Cunningham know (via the Facebook link above) as soon as possible so that we can order the right amount of food. And a couple of requests –
Any offers to help with BBQing the meat on the day would be appreciated.
A couple of adult sized bikes in different sizes for the rollers would be good.
Any desserts would be appreciated (although I'm sure the racing men won't be interested…)
Hope to see you there!
| | | | |
| --- | --- | --- | --- |
| | Name | Club | Time/Handicap |
| 1 | Mark Kane | Northern | 21.05 |
| 2 | Paul Kane | Northern | 21.27 |
| 3 | David Fowler | Northern | 22.39 |
| 4 | Paul Swinnarton | North Down | 23.31 |
| 5 | William Gill | Ards CC | 23.36  /  5pts |
| 6 | Barry Mitchell | Ards CC | 23.40  /  7pts |
| 7 | Mark Thomson | North Down | 23.52 |
| 8 | Andrew Ferguson | Castlereagh | 24.29 |
| 9 | Michael Riddell | North Down | 24.46 |
| 10 | Geoff Brennan | Ards CC | 25.08  /  3pts |
| 11 | Paul Cunningham | Ards CC | 25.17  /  10pts |
| 12 | Mark Hodgins | North Down | 26.13 |
| 13 | Brian Wylie | Castlereagh | 26.18 |
| 14 | Alan Rodgers | unattached | 26.3 |
| 15 | Colin Wilson | Ards CC | 27.04  /  2pts |