Damian Shaw (Team ASEA) came in nearly 3 minutes ahead of his nearest rival to emphatically win this year's See.Sense Tour of Ards.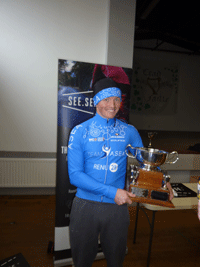 It was a cold day, with a biting south easterly wind coming off the sea, but the rain held off. A full field of 80 riders signed on, and the attacks started almost immediately. The field was still together at Ballywalter, but by Cloughy a group of 8 had managed to get away.
The gap hovered around a minute for a long time, as chase groups tried to escape from the bunch. Up front, Damian attacked the break, and with his team mate Alastair Macauley policing the others the gap grew steady. The wind was on the riders' backs as the race headed home to Newtownards, and Damian was uncatchable.
David Watson (from neighbouring club North Down CC) took the sprint for second from Craig Macauley (Roe Valley). It was encouraging to see Mark McKinley (Newry Wheelers) returning from illness to take 4th – he won't remain a 3rd cat for long! Sean Featherstone (Newry Wheelers) and Alastair Macauley rounded out the remainder of the break.
The bunch finished just 41 seconds further back, with ever green vet Brian Stewart (Phoenix) taking the sprint from first junior Jake Gray (Nicholas Roche development squad) and first unplaced A3 Ryan Bankhead (Ballymena RC). It was encouraging to see five juniors in the top 20, and 3 of the Ards CC road squad finishing comfortably in the bunch. See below for the full result.
The race would not have been possible without the help of –
Our sponsors – See.Sense and Roma's
The police, who once again did a great job smoothing the flow of the race through busy Saturday traffic
The Ards CC organising committee, for doing all the legwork behind the scenes
All the marshals, motorcycle marshals, judges and timekeeper.
The Roads Services, for doing last minute repairs, and making sure all road works were cleared in time for the race.
St John's Ambulance, who were thankfully not called upon this year.
David McVeigh and Dany Blondeel for extra reporting and photo – checkout out our Facebook site for more photos and videos later.
The Belgian project and McConveys for the extra Junior prizes.
Cycling Ulster for the radios.
Tom Henry (North Down) for his entertaining commentary
The Commissaires (both experienced, and new ones training for the future)
St. Patricks, for allowing us to use their hall and car park.
And most importantly, the ladies for a great spread of food afterward.
Overall Results
| | | | |
| --- | --- | --- | --- |
| Pos. | Name | Club | Time |
| 1 | Damian Shaw | Team ASEA | 2:23:29 |
| 2 | Dave Watson | North Down CC | 2:26:12 |
| 3 | Craig Macauley | Roe Valley | " |
| 4 | Mark McKinley | Newry Wheelers | " |
| 5 | Sean Featherstone | Newry Wheelers | " |
| 6 | Alastair Macauley | Team ASEA | " |
| 7 | Brian Stewart | Phoenix CC | 2:26:53 |
| 8 | Jake Gray (1st Jun.) | Nicholas Roche Dev. | " |
| 9 | Ryan Bankhead (1st A3) | Ballymena RC | " |
| 10 | Roger Aikan | Team ASEA | " |
| 11 | Johnny Taylor | Carn Wheelers | " |
| 12 | Stephen Harkens (1st Vet) | Team Madigan | " |
| 13 | Lindsay Watson (1st A2) | Plush | " |
| 14 | John McGlaughlin | Cookstown CT | " |
| 15 | Marc Heaney (2nd Jun) | Carn Wheelers | " |
| 16 | Conor McCann (3rd Jun) | Nicholas Roche Dev. | " |
| 17 | James Curry (4th Jun) | Banbridge CC | " |
| 18 | Angus Fyffe | Omagh Wheelers | " |
| 19 | Aaron Parks | Cookstown CT | " |
| 20 | Jody Evans (5th Jun) | Spires | " |
| 21 | Gareth McKee | Banbridge | " |
| 22 | Des Woods | Newry Wheelers | " |
| 23 | Barry Hamilton | North Down CC | " |
| 24 | Joe Henry | Velo Café M. | " |
| 25 | Cameron McIntyre | Banbridge CC | " |
| 26 | Johnny Webb | North Down CC | " |
| 27 | Gareth Beattie | North Down CC | " |
| 28 | Paul Smyth | Maryland Wheelers | " |
| 29 | Andrew Hicks | Newry Wheelers | " |
| 33 | Ian Carson (1st Ards) | Ards CC | " |