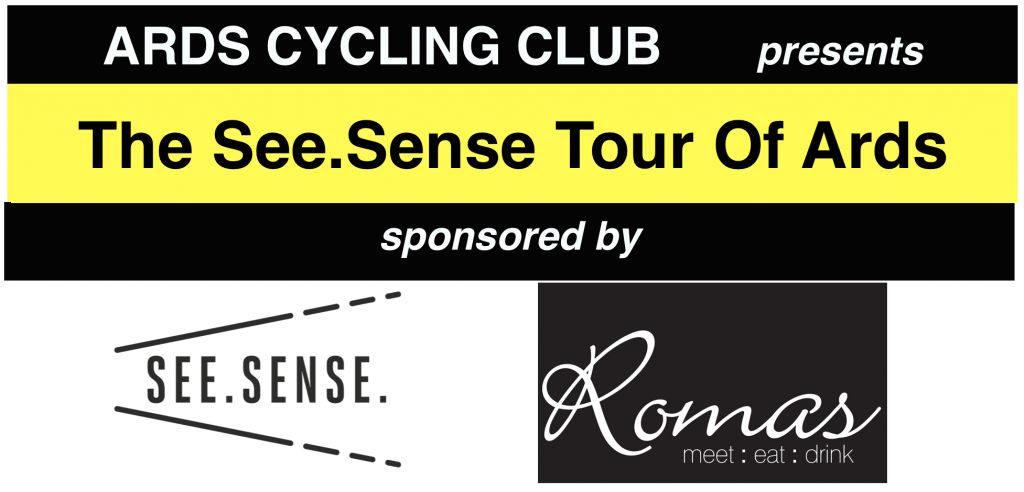 Below is the start list for this year's See Sense Tour of Ards.
Sign on is in St Patrick's Hall, Newtownards and is open from 9:30 – 10:30am.
At sign on riders will be provided with race numbers and electronic tags (both must be returned). See Sense will be at sign on to promote their world renowned smart lights and will give each rider a special 750ml water bottle that's made from sugar cane instead of the normal harsh plastic bottles are usually made from.
Cycling Ulster race radios will be available to hire at £5 each (Refundable £5 deposit also required)
Team car drivers must have a 2015 Cycling Ireland license.
Riders will group for safety briefing before roll out at 10:50 with race neutralised until start line on Portaferry Road circa 11am.
Full race route / map / description can be found here.
Thanks to local sponsors See Sense and Romas, the total prize fund is a healthy £750 with £175 for the winner. Prizes will be awarded to the top 8 finishers, as well as category prizes for first unplaced Vet, A3, A2 and Junior riders.
Prize distribution and food/drinks will be held in St Pat's hall after the race.
TOA START LIST 2015

Darragh Zaidan

Adamstown CC

Gareth Murray

Ards CC

Graeme Brown

Ards CC

Ian Carson

Ards CC

Richard Topping

Ards CC

William Gill

Ards CC

Clifford Grant

Ballymena RC

Hall Booth

Ballymena RC

Karlo Taylor

Ballymena RC

Matthew Brennan

Ballymena RC

Ryan Bankhead

Ballymena RC

Stuart Laverty

Ballymoney CC

Cameron McIntyre

Banbridge CC

Gareth McKee

Banbridge CC

James Curry

Banbridge CC

Simon Curry

Banbridge CC

Johnny Taylor

Carn Wheelers

Marc Heaney

Carn Wheelers

John Heverin

Clann Eireann

Aaron Parks

Cookstown CT

John McGlaughlin

Cookstown CT

Colm Quinn

Cuchulainn CC

Liam Dolan

Cuchulainn CC

Myles McCorry

Cuchulainn CC

Mike Curran

Curran Racing

Chris McCann

Dig Deep

Luke Hylands

Dig Deep

Kenny Wilson

East Antrim

Andrew McCullough

Kinning Cycles

Glenn Kinning

Kinning Cycles

Campbell Stewart

Maryland Wheelers

Colin McElderry

Maryland Wheelers

Andrew Chivers

NDCC

Andrew Gregg

NDCC

Barry Hamilton

NDCC

David Hamilton

NDCC

David Watson

NDCC

Garth Beattie

NDCC

James Ambrose

NDCC

Joash Lawrence

NDCC

Johnny Webb

NDCC

Keith Hooks

NDCC

Keith Philips

NDCC

Mark Thompson

NDCC

Paul McArther

NDCC

Will Hamilton

NDCC

William Larmour

NDCC

Andrew Bye

Newry Wheelers

Andrew Hicks

Newry Wheelers

Des Woods

Newry Wheelers

Drew McKinley

Newry Wheelers

Kevin Lynch

Newry Wheelers

Mark McKinley

Newry Wheelers

Sean Featherstone

Newry Wheelers

Conor McCann

Nicolas Roche DT

Jake Gray

Nicolas Roche DT

Angus Fyffe

Omagh Wheelers

Darragh Carter

Omagh Wheelers

Paul Carter

Omagh Wheelers

Brian Stewart

Phoenix CC

Craig Rea

Phoenix CC

Fergus Rooney

Phoenix CC

Jody Wright

Phoenix CC

Mike Millar

Phoenix CC

Lindsay Watson

Plush MTB

Craig McAuley

Roe Valley CC

Jody Evans

Spires CC

Alastair Macauley

Team Asea

Bryan McCrystal

Team Asea

Chris Reilly

Team Asea

Fraser Duncan

Team Asea

Roger Aiken

Team Asea

Andrew Steele

Team Madigan

Stephen Farr

Team Madigan

Stephen Harkins

Team Madigan

David McKnight

Team Vision Racing

James Mullan

Velo Cafe Magasin

Joe Henry

Velo Cafe Magasin

Sean McGreevy

Velo Cafe Magasin

Patrick Whiters

West Tyrone

RESERVE LIST

Aaron McCready

Phoenix CC

Aaron Swan

Nicolas Roche DT

John Scott

Island Wheelers

Damian Lagan

Inishowen Wheelers

Jude Sands

Newry Wheelers

Paul Smith

Maryland Wheelers

Davy McFall

Omagh Wheelers

Paul Crossen

Killinchy CC

Sean McIntyre

Orchard CC