The weather was perfect for this evening's 4th round of the club road race trophy at Carrowdore. The limit group was given a 6 minute start on the main bunch, with scratch a further 3 minutes back. It was great to see Ards man Ian Carson mixing it in scratch with top riders like Frazer Duncan and the Kane brothers as the knocked out 11:40 laps round the five and a half mile circuit.
Once again the time keepers judged it well, with the limit bunch holding out until the fourth lap, and scratch only getting up to the front late on the fifth and final lap.
In the big dash for the line, it was Chris Richardson (Castlereagh) who took the win, followed by Keith Philips (North Down CC). Next were Paul McMinn, Geoff Brennan and Barry Mitchell (all Ards CC), with Steven Watty (North Down CC) rounding out the top 6.
In the race for the remaining Ards CC road race points, we think Richard Hanna was 4th Ards man (although it was difficult to tell on the video due to the glow from his new fluorescent bike), followed by Robin Wilson and David McCambley.
In the overall road race trophy standings, Paul McMinn is starting to open up a gap, but there is still all to play for with 2 races remaining and a rider's best 4 results to count.
| | | | | | | | | |
| --- | --- | --- | --- | --- | --- | --- | --- | --- |
| Place | Name | 28/4 | 12/5 | 2/6 | 30/6 | 28/7 | 18/8 | Total |
| 1 | Paul McMinn | 10 | | 7 | 10 | | | 27 |
| 2 | Richard Topping | 7 | | 10 | | | | 17 |
| 3 | Wayne Garrett | 5 | 10 | | | | | 15 |
| 4= | Geoff Brennan | 2 | | | 7 | | | 9 |
| 4= | Robin Wilson | | 7 | | 2 | | | 9 |
| 6 | Barry Mitchell | 3 | | | 5 | | | 8 |
| 7 | David McCamley | | 5 | | 1 | | | 6 |
| 8 | Mark Brown | | | 5 | | | | 5 |
| 9 | Alex Porter | | 1 | 3 | | | | 4 |
| 10= | Darren Tombs | | 3 | | | | | 3 |
| 10= | Richard Hanna | | | | 3 | | | 3 |
| 12= | Peter Scott | | 2 | | | | | 2 |
| 12= | Joshua Porter | | | 2 | | | | 2 |
| 14= | Gareth Murray | 1 | | | | | | 1 |
| 14= | Conn Russell | | | 1 | | | | 1 |
Thanks to the timekeepers and marshals who made the event possible. It was great to see Desi out on a motorbike tonight, looking like a Belgian Derny rider 🙂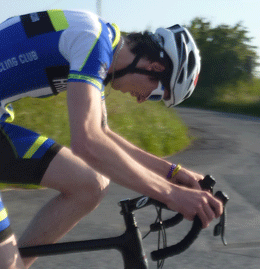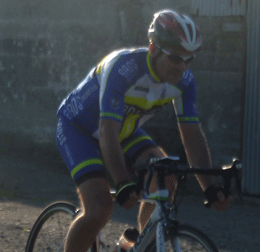 And thanks to Emma for the pictures (random shots taken from the back of the tandem!)