A cold wind and the constant threat of rain greeted riders at the first club road race this evening over 5 laps of the new Stockbridge/Orlock circuit. In spite of many North Down riders being away at a training camp, and the Killinchy riders having their own time trial, 31 hardy souls still signed on.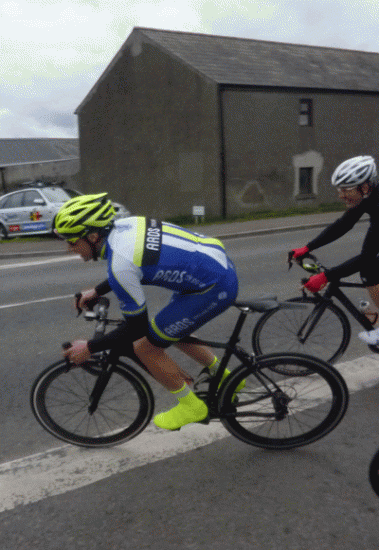 The handicappers split them into 3 groups, with a 4 minute gap to the middle markers and a further 2 minutes to the 4 man scratch group. In the early laps the front two groups worked well, and scratch only closed 15-20 seconds per lap on the middle markers. However, as the cold and wind took their toll, cracks started to appear, and scratch finally made it through to the front with half a lap to go.
In the charge up Orlock Hill to the finish gaps started to appear making it relatively easy for the judges.
David Hamilton (North Down) was a clear winner. Next was a very tight sprint for second, with Paul McMinn just edging out Richard Topping by inches to take first Ards man. Paul Kane (Northern), Mark Thompson (North Down) and Wayne Garrett (Ards) rounded out the top 6 overall. Close behind, Barry Mitchell, Geoff Brennan and Gareth Murray took the remaining points towards the Ards CC road race trophy.
Paul McMinn takes an early lead in the road race trophy, but with 6 races this year and a rider's best 4 to count, there is still all to play for.
| | | | | | | | | |
| --- | --- | --- | --- | --- | --- | --- | --- | --- |
| Place | Name | 28/4 | 12/5 | 2/6 | 30/6 | 28/7 | 18/8 | Total |
| 1 | Paul McMinn | 10 | | | | | | 10 |
| 2 | Richard Topping | 7 | | | | | | 7 |
| 3 | Wayne Garrett | 5 | | | | | | 5 |
| 4 | Barry Mitchell | 3 | | | | | | 3 |
| 5 | Geoff Brennan | 2 | | | | | | 2 |
| 6 | Gareth Murray |  1 | | | | | | 1 |
Congratulations to the handicappers for judging the gaps well tonight and thanks to all the marshals and helpers at the finish line for making it a safe event. And it was great to see so many Ards CC riders, resplendent in their new kit, out tonight. We just have to try and persuade some of the faster ones to try scratch next time 🙂