Cyclists often use the winter months to set goals for the coming season, and to plan out how they will achieve those goals. There's lots of information on goals and planning on the club's coaching webpages  (or follow the link in the About Us menu at the top of this page).
Once you've chosen your goals, you'll need to train to achieve them. Again, there's lots of advice on training, including the importance of progression and cycles.
And that brings us to this week's hot topic. What happens when bad weather threatens to disrupt your carefully crafted training plan? Let's look at the two options.
Train Indoors
The first option is to use an indoor trainer, rather than venturing outside. There are two big advantages to this approach.
Indoor training is very controlled. It is much easier to manage your training sessions, measure your efforts, and control the level of progression.
It's safe. You don't have to battle with bad weather, dangerous conditions and poor visibility.
Train Outdoors
There's an old saying in cycling – "you have to race in all weathers so you should train in all weathers." There are two parts to this argument. The first is physical –
you may be able to put out 400W, but can you still do that in a 50kph cross wind?
when your handlebars are 30cm from the leg of the rider in front of you in the echelon?
What's going to happen when you reach that gap in the hedge?
Can you up the power to 500W for 15 seconds when you reach the pointy end of the echelon?
And do you still have the spare mental capacity to get enough shelter and recovery time on the backward leg of the echelon to allow you to do it all again in a couple of minutes?
The second part is mental. When it starts to snow over Keady Mountain in the Tour of Ulster, do you go back to the team car to pick up neoprene gloves and extra food because you sense an opportunity to spice things up? Or do you go back to the car and climb in because you've never seen conditions like this in your garage…?
The second reason to ride outside in bad weather (some might say…) is because it is actually good fun. There is nothing quite like riding up the Portaferry Road with a gale force tailwind, pretending to be George Peden closing in on Boardman's record. Or what about when the snow stops, and yours are the first tyre marks in the virgin snow under a full moon. Magical. As our old club coach Gary McGrath used to say, "sure, you couldn't pay for training conditions like that."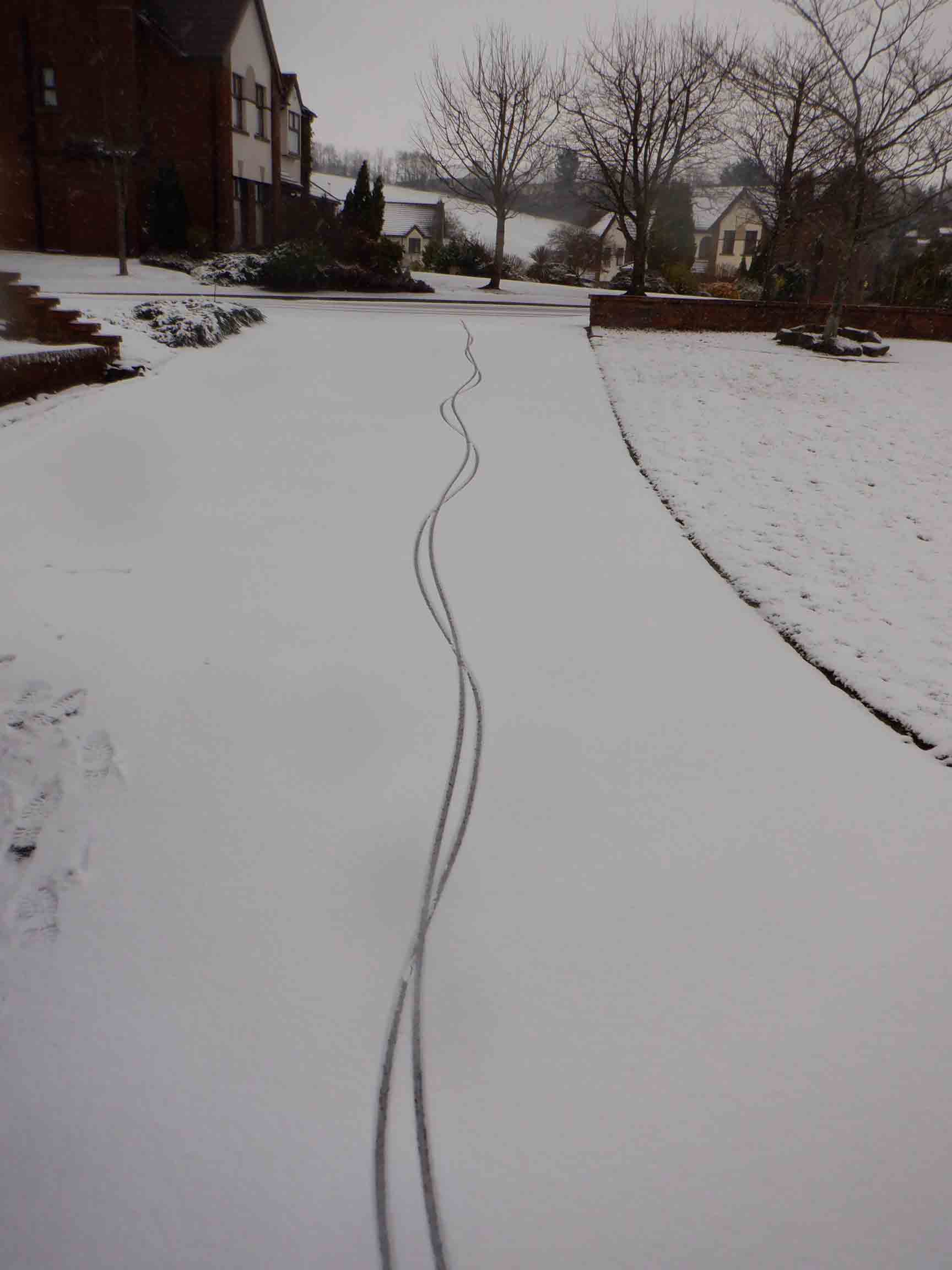 (Note – It takes time to learn new skills. Be aware of your limitations. And never, ever risk riding on black ice).
So What's The Answer?
The above are obviously two extreme positions, and most riders find a spot somewhere in the middle where they are happy.
If your goal is a Zwift Power league, then indoor training is ideal.
But if your goals also include early season classics, then some outdoor training will be a big benefit. Experienced riders used to dread the first few races of the season because some riders would be super fit after a winter on the turbo trainer but wouldn't have a clue about how to ride in a bunch. Usually Darwin had side lined the most inept in crashes before Easter…
Remember, success in cycling requires a mixture of fitness, skill and mental toughness. Your training plan should address all three.
Stay safe out there, and have fun.