We've tried to bring you a variety of weekly stories over the winter lockdown. This week we're delighted to have the story of Alison McErlane's adventures in South America last year. Many thanks to Alison for taking the time to write it up and share some photos – it's inspirational. I've already got the atlas out 🙂
How hard can it be? It's just pedalling!
The Plan
A group of cyclists from the Baltic States have organised cycle trips between the previous Olympic venue and the next since 2004. Their 5th trip in 2020 was from Rio de Janiero to Tokyo arriving for the Olympic opening ceremony. The route would leave from the Olympic Stadium in Rio and pass through the South American countries of Brazil, Paraguay, Bolivia, Argentina and Chile before transferring to Hawaii for a cycle around Big Island including an optional ascent of Mauna Kea!!! (having checked this out on YouTube I planned to be on the beach that day). A transfer to Hokkaido in Northern Japan would start the final leg, cycling down through Japan to Tokyo. The entire route was 9000km and would take five months. Participation was open to all. The invitation is to join for a day, a week, a month, or the whole thing. They don't promise a comfortable holiday but guarantee an unforgettable experience!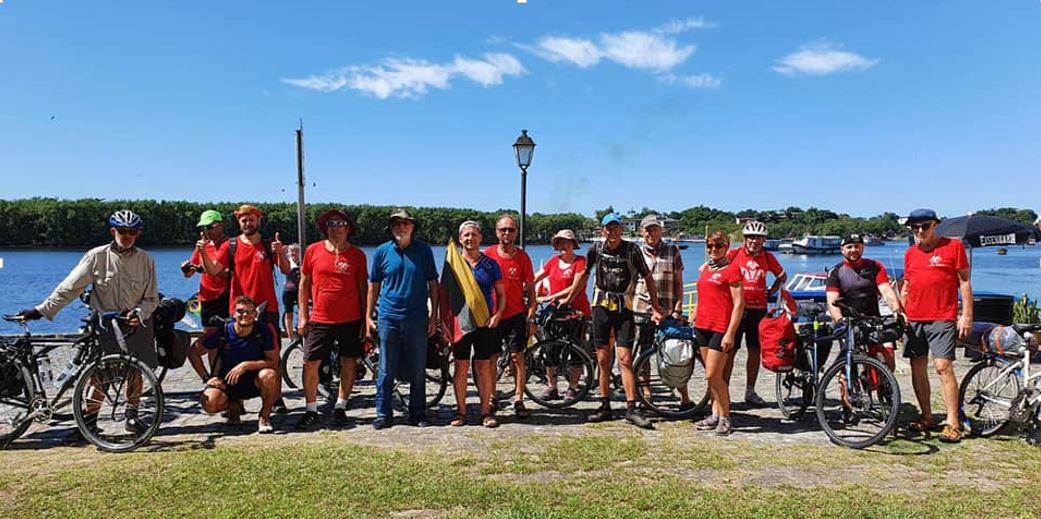 The route was planned to take in National Parks and UNESCO World Heritage Sites. We would be camping most nights with a few nights in hostels. We had the luxury of a support vehicle to carry our tents etc but there were a few occasions when vehicle access was not possible, so we needed to be prepared to carry all essential overnight gear on our bikes.  The route was approximately 90km per day, with a rest day carefully scheduled in an interesting location about once a week. There were 20 riders on the first part of the ride (5 women and 15 men) from Lithuania – 8, Poland – 6, UK – 5, Brazil – 1.
Rio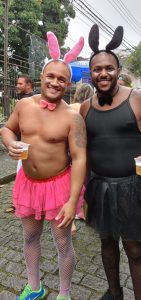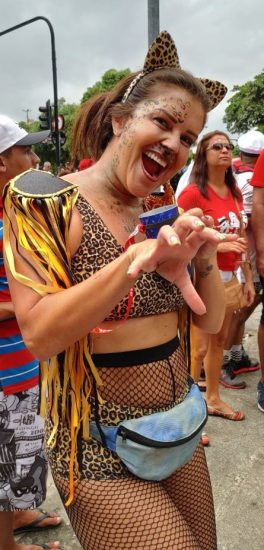 My sister was planning to do the South American leg and as the end Carnival in Rio coincided with our visit, we decided to arrive a few days early to explore Rio and experience the street parades and party atmosphere. The two of us booked into a nice hotel. The first few days we were puzzled by just how quiet the hotel dining room was. The breakfast buffet was incredible, with great variety and copious quantities even though it looked like there were very few guests as we were often the only two diners. We were also amazed by just how quiet the tourist attractions were, nothing really started to get busy until lunchtime. Eventually the penny dropped! Neither of our phones or iPads had adjusted for the time difference! We had been breakfasting, observed by slightly bemused staff, at around 5am each morning and had been enjoying the sights while normal people were sleeping! Maybe with hindsight not a terrible mistake at least we didn't suffer any jetlag 😊
The Ride
On the first day of the ride we all set off together wearing our team T-shirts. We headed south along the coast taking in the famous beaches of Copacabana and Ipanema. We visited the stadium where the Olympic cycling had taken place and got an impromptu tour. The first couple of weeks we generally followed the coast where the cliffs and beaches were stunning, the vegetation was lush and huge flowers including birds of paradise flourished in the roadside verges. The weather was simply perfect too.
The next couple of weeks settled into a pattern. 7am map meeting where the route is confirmed followed by packing up the tents and then heading off in small self-formed groups for another day of exploration hopefully getting a nice meal enroute and arriving at our destination before dark to set up camp again. Vagabonds R Us.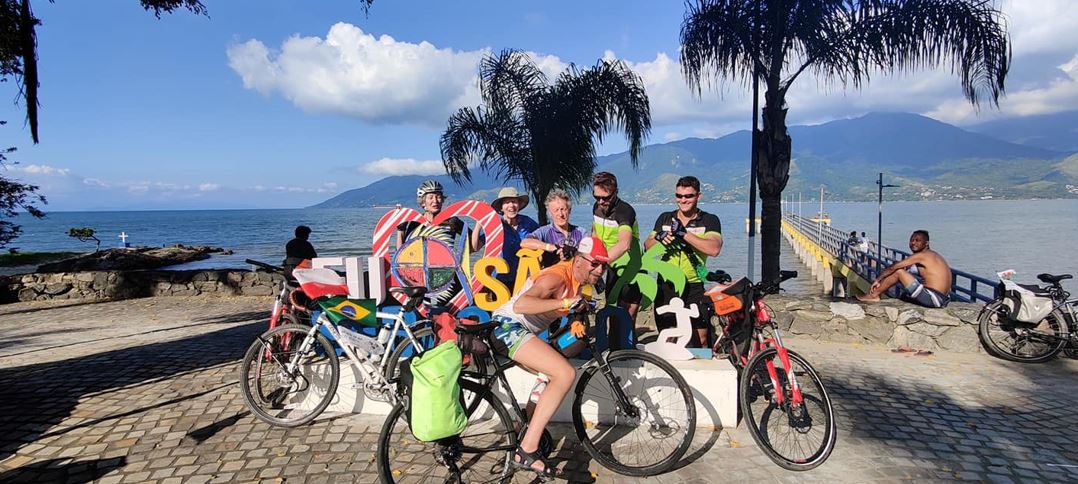 Brazilian food was generally delicious but did have its little surprises. With no knowledge of Portuguese there often is no indication if the snack about to be devoured is sweet or savoury. I tucked into a delicious cake which I thought for certain was sweet (it had the colours of our delicious fifteens) only to find it was fish ☹ Other apple and pear shaped delights contained meat!
On a couple of occasions, the route took us onto islands. One memorable trip was a fabulous journey to Superagui National Park. This included a 4-hour boat-trip where we saw flamingos, dolphins, and beautiful red Ibis in the mangroves. We then had a 20 km ride along a beach, but we found ourselves stranded by tides or global warming as the connecting sandbar had disappeared!
After some discussion, Paulo our Brazilian teammate cycled back to the village and arranged for boats to take us to the next island just before nightfall.
We wild camped there and then set off for another jaunt along the beach in the most glorious paradise. It was my birthday and what a memorable one! I watched a gorgeous crimson sunrise, had a flat 26km cycle along the beach and Sigitas our leader put on a party for me that evening.
The End Game
Little did we know that as we relaxed on our island paradise major changes were happening. Covid 19 had arrived in Brazil and everything was changing. Masks, hand sanitiser and 2-meter distancing had arrived, so alien and bizarre back then. Lockdown had begun and we had no real choice. Our journey had ended after just 1000km cycling. We had to act quickly to get on a flight home before they were suspended. Heathrow was deserted when we arrived there, and a few travellers were wearing full boiler-suits and face shields. Belfast was a ghost town!
Even though the trip ended way too early, we had many wonderful experiences and memories, and soon there was talk of continuing the adventure in 2021. Alas that looks very unlikely as the pandemic continues and Japan is not welcoming visitors to the Olympics. Perhaps 2022? Or there is always 2024 Tokyo to Paris! Interested or want to know more? Get in touch or PM me on FB. There are a few more stories on my FB page. The organiser's website is http://www.bicycle.pl/en/
Alison McErlane