The Ulster cyclo-cross season has been badly hit by Covid-19, but with the Provincial Cyclo-cross championships rearranged for the 3rd January, we thought that now might be a good time to publish the second in our occasional series of new things to try on your bicycle – Cyclo-Cross. You've got four weeks to get ready!
What is Cyclo-cross?
Cyclo-cross is a type of off-road racing. Races are often held in parks, and courses are typically fast and flowing, with some natural or man-made obstacles thrown in to force riders to dismount and run with their bikes. A typical lap is about a mile, and senior races are 45-60 minutes.
What sort of bike do I need?
A cyclo-cross bike looks a lot like a road bike, with larger clearance for bigger, grippier tyres (and the inevitable mud and leaves that they pick up). It will have a wide range of gears and strong brakes (cantilevers or discs), and may also have padding under the top tube to make carrying the bike easier on the running sections.
Having said all that, if you're just starting out then an old MTB is fine, or an old road bike fitted with knobbly tyres.
How is Cyclo-Cross different from Mountain Bike Cross Country racing?
There are a lot of similarities, but MTB races tend to be a bit rougher, have longer laps with bigger climbs and descents, and the races are longer. And mountain bikes are stronger, with suspension and a more upright riding position to cope with the rougher terrain.
MTB racing generally takes place in the spring/summer, whereas cyclo-cross is more of an autumn/winter sport.
Why would I want to ride Cyclo-Cross?
There are lots of reasons, including –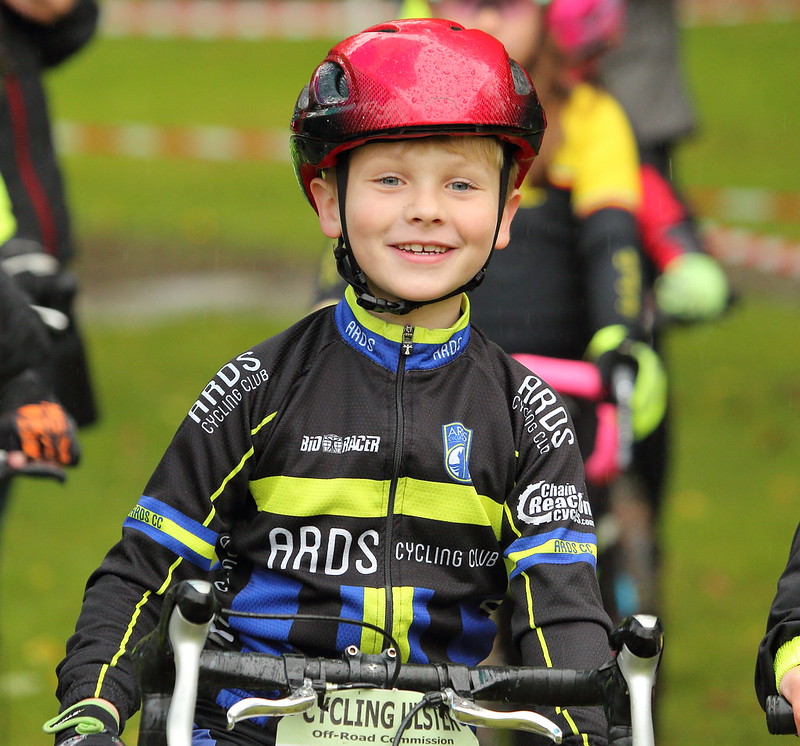 It's great fun. That's young Jake Rocket above (Picture – the Belgian Project)
The whole family can get involved. Most events have races for all ages. And because the courses are short and compact, and the races quick, it is spectator friendly.
It gives you a great work out in a short period of time. The mixture of cycling and running is really intense, and its all over in under an hour.
It's a great way to improve your bike handling skills. It's no coincidence that some of the world's top pro road racers are also cyclo-cross maestros – riders like Wout van Aert and Mathieu van der Poel.
How do I get started?
There's a very healthy Cyclo-Cross calendar in Ulster, with a dedicated website here, giving lots of details on the calendar of events, what to expect on the day, and how to enter. Or talk to some of our members who are already taking part – needless to say the Rockets are keen participants, but older members like Lindsay Gamble and Alastair Martin also have a lot of experience (including an epic trip to the European masters championship in Belgian a few years back – but that's another story….).
Also keep an eye on the club facebook page for details of any adhoc cross training sessions.
We had planned to include a report from the Apollo race in Lurgan Park on 11th October, but unfortunately it was cancelled at short notice. Hopefully future events will be able to go ahead.